About me
My name is Daniel Fiechter. I live on Charlotte Lake, British Columbia.
It is really nice to live out here because of no neighbors and no antenna restrictions.
First licenced in October 2007 and did my "Advanced" in June 2008. I hope to win the fight against the dit's and dah's sometime in 2016 to become a "real Amateur". 
The VE7SO call sign has been assigned to me on November 1st. 2012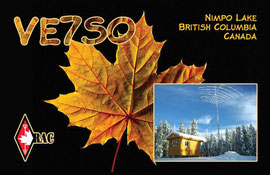 This is my new QSL. Designed and printed by Gennady UX5UO. www.ux5uoqsl.com
QSL Information: LotW is my favourite. Bureau is ok. Direct works too, please DO NOT add any green stamps or IRC's. You pay your postage and I will pay mine. 
I'm not doing eQSL.cc anymore!